Research and reference materials
The Irlen Institute was the first in the field to develop a unique approach to a serious perceptual dysfunction. Any important new discovery must be subject to independent research before being accepted as a valid improvement and benefit. It is through such research at independent universities since 1983 that the Irlen Method has gained increasing support throughout the world. Recent research from Australia has shown that sustained benefit has continued for more than 80% of clients wearing the filters over a period of 6 years.
This research has indicated that by selectively filtering the input of specific wavelengths of light, the Irlen technique allows the brain to accurately process information. Looking through colour corrects the dysfunction, altering the timing by which visual information is received and processed.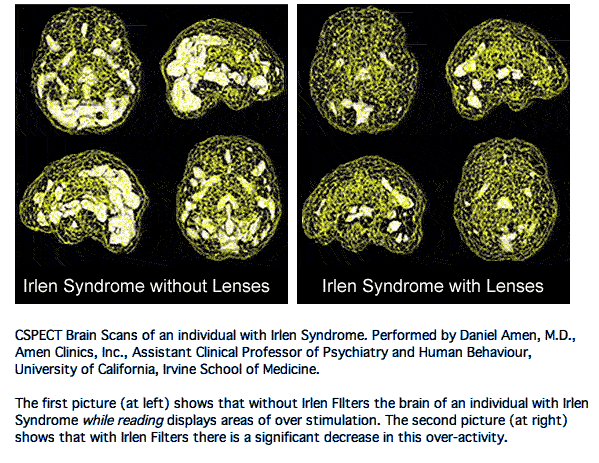 Published research papers
The symptoms and treatment of Irlen Syndrome have been investigated by many researchers through-out the world and some of the papers will be linked from this page. A list of some of the research papers can be found at bibliography of research (opens in external page,) The list is extensive and has papers from many researchers and nationalities.
There are also some interesting and helpful books on symptoms and alleviation of Irlen Syndrome. For example:-
Reading by the Colors
by Helen Irlen
ISBN 0-399-53156-4


The Light Barrier
by Rhonda Stone
ISBN 0-312-32028-0

Sensory Perceptual Issues in Autism and Asperger Syndrome
by Olga Bogdashina
ISBN 1-84310-166-1
Headaches and Migraine Research
Research at the University of Birmingham in England showed that many migraine sufferers are sensitive to the flickering from fluorescent lighting, TV screens, and computer monitors. The study found that wearing colored glasses reduced the frequency of migraine headaches by 74 percent. Other research indicates that about one in five individuals could get relief with colored glasses. A preliminary study conducted at the UT Houston Medical School with 30 migraine sufferers found that 27 of them were helped dramatically by colored contacts.
Evidence that symptoms of headaches and other symptoms of strain can be reduced by the wearing of Irlen Colored Filters which alter the wave lengths of lighting comes from a variety of studies (Bulmer, 1994; Chronicle & Wilkins, 1991; McLachlan, Yale & Wilkins, 1993; Cilkins & Clark, 1990; Wilkins, Nimmo-Smith, Slater & Bedocs, 1989; Wilkins & Wilkinson, 1991).
There are numerous surveys of subjects who have used colored filters for periods of six months to six years. Reduction in eye strain was reported by 78% to 86% of subjects in studies by Burgess (1990), Westergard (1993), Whiting and Robinson (1988), and Whiting, Robinson and Parrot (1994). Stokes and Stokes (1990) found 45% of subjects reported reductions in headaches, while Fricker (1989) and Schaffer (1994) also reported a reduction in headaches when using Irlen Colored Filters.
A preliminary study by D.W. Riley and A. Wright (October 2000) comprised 30 people ranging in age from 10 to 60+. The diagnosis of migraine was by doctor or specialist for 21 of the subjects, with the remaining 9 being self-diagnosed. All the subjects had been assessed for Irlen Syndrome and had been wearing Irlen Colored Filters for 6 months to 5 years. For 83% of people in the study, Irlen Filters reduced the frequency and severity of their migraines.
Irlen is EU registered trademark no 5669809IRLEN. The use of trademark Irlen® throughout this site is an authorised and regulated use the trademark.
Copyright © 1998-2006 by Perceptual Development Corp/Helen Irlen. All rights reserved.
© Irlen East 2017